"Girl, calm…down".
I get that a hell lot. It's not like I ricochet off walls or scream terror unnecessarily. Mostly, it's called for, but we shall leave that topic, for now.
I'm just not stereotypically poised or genteel and I'm not sure if I know how to be so. If you share my affliction in this cruel world of critical potatoes, you'll know the following feels.
#1. People are always scrambling to shoosh you down
via fanpop.com
"Shhh, they can hear you."
"I know. I want them to hear me."
#howenemiesaremade
#2. Wait till you meet ze family
via tumblr.com
It's really just the 4 of us.
#3. Swearing conveys the highest form of passion.
via blog.ghost.org
Because we're dedicated, you f*cking f*cksh*t.
#4. Telephone conversations always start with the other party saying, "Why so angry?"
via giphy.com
It's, "Hello."
#5. CAPSLOCK IS LIFE!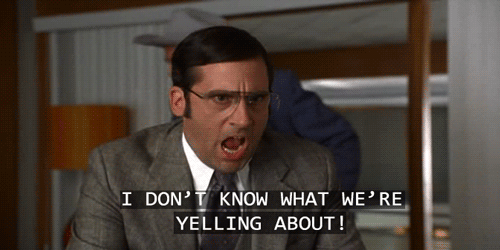 via gifrific.com
IT DOES JUSTICE TO YOUR EXPLODING ENERGY!
Embrace it.
Banshees, unite!